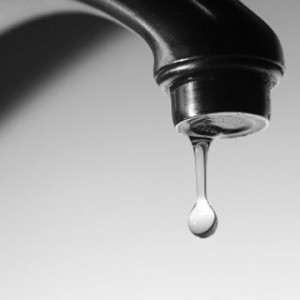 Hello from sunny Phoenix, Arizona. Many people have asked for an update on Dempsey's condition. We're both so grateful for your concern and your prayers.
I found the perfect photo to illustrate this post: a leaky faucet. I am unfortunately rarely able to cry except  in extreme circumstances, but I had a day this week when I was leaking tears everywhere I went. Not big sobbing cries, just silent tears rolling down my face. It happened during doctors' appointments while I was asking questions and taking notes. It happened eating lunch, and walking the halls. Dempsey's been affected the same way. Reality setting in.
We had a similar synchronicity Monday. Early in the morning I spoke to a friend and said, "How did we get from our nice, normal life to this?" Later, with no discussion on my part, Dempsey said the same thing to me.
We've supported friends and family through cancer and other serious illnesses, but until it happens to you, there is just no way to describe the shock.
We've been together many years, and we are very close. Yet we've been surprised to find ourselves growing even closer now. We're constantly holding hands, sort of like Hansel and Gretel wandering lost through the Dark Forest.
After ten days of tests, we know more, but much remains undetermined. Dempsey has a large squamous cell carcinoma tumor in a lymph node on the right side of his neck.  It is growing; it was the size of a quarter mid-December. It doubled in size between January 6 and January 26.
Because squamous cells don't originate in lymph nodes, we know there is an original site, probably on the back of his tongue or his tonsils. However, that site hasn't shown up on any of the scans or exams done thus far. Next week, a surgeon is going to put him under, put a scope down past his larynx, and go exploring. He'll also remove Dempsey's tonsils so they can be examined.
After the tonsillectomy, we'll go home while he recovers, possibly three or four weeks. Then we will return for two months of radiation and chemo. We also have the option of having the tumor on his neck removed surgically, then having less intense radiation. We're discussing the pros and cons of that.
A dentist removed four of his teeth yesterday. They would probably have needed to go in the next year or two, and after radiation, healing is compromised for some time.
The fast-growing nature of the tumor is a good thing in terms of his prognosis. It made its presence known early on, and it hasn't been around long enough to spread far. A few other lymph nodes in his neck look suspicious, but there is no cancer elsewhere in his body.
We have only good things to say about this center. Dempsey's doctors are world-class. The radiation doc specializes in head and neck disease, which comprises only 6% of all cancers. He came here after years at Sloan Kettering. He's widely published and taught at Stanford's medical school, among others.
With rare exceptions, everything happens in one building. We go into a room in the clinic area, and the doctors come to us. A full hour is allotted for each doctor visit, and in some cases doctors have followed up with further questions by phone. They explain everything in detail, and answer all our questions.
Dempsey has a treatment team that consists of an oncologist, radiologist, ENT surgeon, oncology nurses and a physicians' assistant, as well as a naturopathic doctor, nutritionist, dietitian, speech therapist, physical therapist, a chiropractor, acupuncturist, massage therapists and counselors. He is being followed by a dentist and an audiologist. Each specialty has a care manager who interfaces with us, and Dempsey's personalized website gives us immediate access to results of all tests and his ever-evolving schedule.
We had planned to get second opinions at M.D. Anderson, but we feel we're in the right place, so we're moving forward here.
One reason we chose CTCA was the integrated care. Dempsey's doctors are in constant communication about him. More than that, however, they believe in and use complementary medicine. They are driven by conventional medicine, certainly, but they also employ adjunct therapies like nutritional supplementation.
That's right up our alley. If this cancer were less advanced, we would have used alternative therapies first and given his immune system a chance to fight the disease. We don't have the luxury of time, however. We will be using the weeks prior to starting radiation and chemo to try several alternative protocols I've found in my research.
The radiologist, who's been doing this over 20 years, says he thinks Dempsey has a 50 to 60% chance of making it to that magic 5-year marker with no recurrence. We like those numbers. Dempsey is relatively young and strong, and we'll be using every natural approach we can find to rebuild his immune system and prevent this thing from coming back.
This weekend we have four days free. We're driving over to San Diego County, where we'll be around friends, and I can put in time on a project with Tom Pauley.  With the new course almost done, and the book, I'm working as much as possible around Dempsey's appointments.
I'll spend time every day at the beach. That's my therapy.