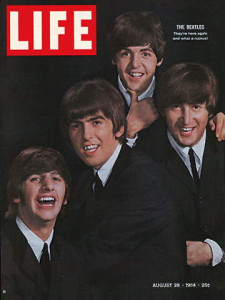 Everybody's life has a soundtrack. Mine began with the records my parents played. I remember my father's collection of Jimmy Rogers 33 r.p.m.s, and stacks of classical recordings. My mum loved opera; both she and her mother were singers and had studied extensively. Over time I came to appreciate the pageantry, but opera remains my least favorite musical genre.
I remember my English grandfather singing to me from Pirates of Penzance, and lots of silly songs from his own childhood.
We listened on the radio to Hank Williams, and Hank Snow and Kitty Wells and Ray Price – all the great country singers. We listened to boogie woogie, and show tunes. I can pretty much sing every line of every song from South Pacific, even today. I remember dancing in my living room to Elvis, and being wild for rockabilly.  I always loved the blues.
I cried when Buddy Holly and the Big Bopper flew into that mountainside. I loved Loretta Lynn and Harlan Howard and Don Gibson and George Jones, and Patsy Cline. I knew all the words to Crazy, and Walkin' After Midnight. I cried when Patsy died.
I loved all the girl groups from the 60s, and everything Motown. I couldn't get enough of Marvin Gaye, Mary Wells and Tammi Terrell, the Supremes and Smokey Robinson. I loved the Beach Boys, and Jan and Dean.
At my sixteenth birthday party, we played Roy Orbison all night. I loved Sinatra and Louis Armstrong, and Dusty Springfield and Dionne Warwick. I loved Johnny Rivers. Barbra Streisand's voice awed me.The Righteous Brothers made me swoon. I was smitten with Bobby Darin, especially after he sang to me from the stage one night in Vegas.
In 1964, I was listening over and over again to Willie Nelson singing I Remember You. It wasn't like any of the music he's known for today. He was writing a lot of music in those days for other people, but he was always experimenting. He played an amazing jazz guitar. Soldier Boy was on the radio a lot that year; it perfectly expressed our angst about the war.
Much of my sexual education took place on back country roads, to the accompaniment of the car radio in my future in-laws' Ford Fairlane. For some reason, when I think of those nights, I remember Peaches and Herb.
And then, something new was on the radio: I Wanna Hold Your Hand. The Beatles came to America and we all went crazy.  Then it was the Animals, and Manfred Man, the Kinks, and most of all, the Stones.
I remember driving around late at night in a carload of friends, all the girls singing, "We're going to the chapel, and we're gonna get married…"  I remember beer runs across the county line, and dancing by the side of the road.  And I remember endless debates about the lyrics of Louie Louie, by the Kingsmen. Despite the rumor they were obscene, none of us could ever decipher them enough to be sure.