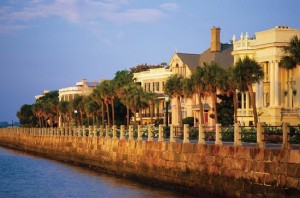 Charleston, South Carolina, is one of the cities I love best, and Pat Conroy one of my favorite writers. So I was excited to finally read South of Broad, his 2009 coming-of-age novel set in Charleston. The story follows a group of friends from the time they meet in 1969 as high school seniors, to 1990, as they are entering middle age.
The book features many of the themes common to Conroy's novels: the complex relationships between family members, bonds of love among friends, suicide, racism, abuse, and the devastating effects of violence. The characters are vivid and memorable, but it is the city itself that mesmerizes. Conroy lives in South Carolina, and he graduated from the Citadel. His descriptions transport the reader to beach houses on Sullivans Island, the taste of she-crab soup, the scent of magnolia trees, and the beauty of the rivers and bridges.
It was another section of the book, however, that brought me to tears. One of the friends is a gay man who goes to live in San Francisco. When they learn he is suffering with AIDS, his sister and friends travel there to find him, bring him home and take care of him. They search for his friends, only to learn they have all died.
I grew up with my cousin, Jimmie, a gay man who went to live in Oakland, across the bay from San Francisco. I spent a lot of time with him there. Jimmie was a big, handsome, charismatic man who loved his work with emotionally disturbed adolescents. He learned he had AIDS when he and his partner, KC, volunteered for a drug study. They wanted to do something proactive.
At the time, 80% of the gay men in the Bay Area were HIV positive. It was just as Conroy described it. Each of their friends died, one by one. Jimmie died in 1992, and KC just a couple of years later. If they had lived just a little while longer, they would have had access to antiretroviral drugs. They might have made it.
Here in the North America, the worst of our AIDS epidemic has passed. The time Conroy describes is our history. I am remembering all the men who lost their lives to that epidemic, and praying for all of us who loved them and still miss them.
My friend, Sr. MaryBeth Lloyd, works with children in Africa whose parents have died of AIDS and left them alone. There, as in many other parts of the world, AIDS is not history. It is a current event.
If you'd like to learn more about Sr. MaryBeth's work, and how you can help, visit:
http://AIDSOrphansRising.org