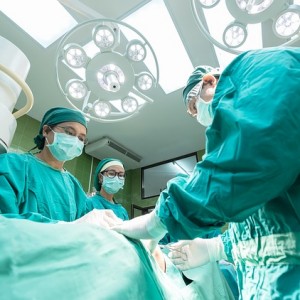 Dempsey had surgery yesterday. The procedure was much more extensive than planned, but the outlook is good.
We are very glad we decided to let Dr. Chetan Gujrathi, the ENT surgeon, remove the tumor on Dempsey's neck at the same time he performed the laryngoscopy and tonsillectomy. Once he was in, Gujrathi realized the tumor had grown a lot since the CAT scan a only week ago. He told me he doubts he'd have been able to get it all in just another week or two.
The tumor had broken through the capsule of the lymph node and was encroaching on all the structures of the neck.  Dr. Gujrathi was able to peel it off (his description) the nerves, the jugular vein and the carotid artery, but it had grown into the muscle.
With no way to extricate the tumor from the muscle, the surgeon was forced to remove some muscle tissue. As a result, Dempsey has a big dent in the right side of his neck, to accompany what will probably be an impressive scar. But he's alive. The tumor was on the verge of wrapping around bone.
Yesterday the surgeon expressed some concern that Dempsey might have lost some function of his right arm, and that his smile might be crooked. Today, however, Dempsey seems to have near full range-of-motion in that arm. His smile is as beautiful as ever.
Dr. Gujrathi was not able to identify the site of what Dempsey and I have taken to calling "the mystery tumor." His immune system may have flushed it away. We may get more information when the pathology reports arrive in five days with the results of the biopsies taken during the procedure.
Dr. Gujrathi also said he believes with the addition of the radiation and chemo, the head and neck cancer will be gone permanently. He is very optimistic.
Some medical professionals prefer not to deal with patients and caregivers like me. I research extensively and take nothing at face value. I ask a million questions. I did my therapy training at the Medical Center in Houston with lots of doctors, and I have little tolerance for the medical arrogance one sometimes encounters.
That said, I am so grateful we came to this facility. Beyond the points I mentioned in an earlier post, Dr. Gujrathi rearranged his surgical schedule and drove across town, having already completed several other operations in the morning at another hospital, just so that we could save a few thousand dollars by staying within our insurance network. He was tired when he arrived, and he hadn't eaten lunch, but he was gracious and focused on Dempsey.
Last night I stayed in the hospital room. Normally I would never have slept, because I would feel the need to advocate for him and walk to the nurses' station cajoling and threatening them (politely) to give him his pain meds in a timely fashion. Here there were two nurses absolutely on top of it. He was able to rest, and so was I.
We also appreciate the diversity of the staff, all of them experts in their field.
We're hoping to head home at the end of the week. We'll  come back in a couple of weeks for a post-surgical checkup and some more dental work. Then around the end of March or the beginning of April, we'll move back here for the rest of his treatment.
Some aspects of being here have been challenging. It was hard for me to sit by myself yesterday during the surgery (although I was supported virtually by many loving family members and friends). I'm apprehensive bringing Dempsey back here to the hotel to care for him alone, dealing with drains and pain medication. I don't have anyone to send out for things I may need. I know we'll be fine, and I'll figure it all out – but it's not like being at home.
We came to Phoenix with two changes of clothes, expecting to stay three days. Today we've been here three weeks. We're in the right place.