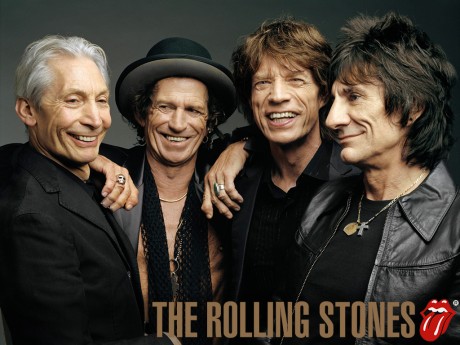 Saturday night my husband and I ticked off one of the items on our bucket list. We saw the Rolling Stones in concert on their Zip Code Tour in Arlington. It was everything we hoped it would be, and when we got back to our hotel at one in the morning, we couldn't stop talking about it. It occurred to me there are some significant life lessons we could all learn from Mick, Keith, Charlie and Ronnie.
1. Stand and deliver. After five decades of success, another group might have been tempted to phone it in. These guys did not. They were 100 percent present in the moment, connecting with the audience, grooving with the other musicians, and delivering a show that defined rock 'n roll. They played almost three hours without an intermission, although at one point Mick did go backstage for a quarter hour while Keith took over on vocals. (Considering the energy Mick expends onstage, I'm guessing he was back sucking on some oxygen.)
2. Live your creative process. By necessity, the playlist for the concert comprised only a fraction of the Stones' catalog. Although I've listened to their recordings my entire adult life, I was awed and moved to be standing in that stadium hearing them perform the songs that represent an entire genre of music. What they've created, and what they continue to create as they present new arrangements, is a body of work that has stood for generations, and will stand for years to come. And each performance is a creative process; that's apparent watching Keith and Ronnie bent over their guitars, seeing Charlie on the drums, and watching Mick play, sing, dance and strut the length and breadth of the stage.
3. Surround yourself with excellence, and share the credit. The four stars were supported by a group of world-class musicians and backup singers. Lisa Fischer took the spotlight several times, and performed on her own. As Mick gave generous acknowledgment to each person on the stage, I was reminded how the band was inspired early on by the American soul singers who visited them in England.
4. Planning pays. Of course, an event like this concert is the product of months of careful planning. Someone on their team scouted the local culture, and made sure the Texas audience would feel the personal connection. The tour logo was tweaked to wear a Stetson, as did Mick at one point. When he finished that number, he tossed it to some happy audience member. He even sang a few stanzas of All My Exes Live in Texas, in a nod to George Straight, whose farewell concert was held in the same venue. As the audience clapped and yelled for an encore, the lights came up slowly on The University of Texas Arlington A Cappella Choir, which had been drafted to sing a haunting arrangement of You Can't Always Get What You Want.
5. Give your tribe what they want. There were graphics and animations, a few simple changes of colorful costumes, and some pyrotechnics. But overall, the show stuck to the basics: the performance and the music.
6. Refuse to let age limit your life. It's no secret the Stones spent years living the rock 'n roll life, complete with drink and drugs. Their craggy faces show their age: Mick and Keith will turn 72 this year. Charlie is 74 and Ronnie is 68. But standing on that stage, they were ageless. And as I looked around at the 85,000 avid fans with whom I was sharing the experience, I saw fans from teens to contemporaries of the band. Every one of us was standing, dancing, singing out loud and screaming for more.