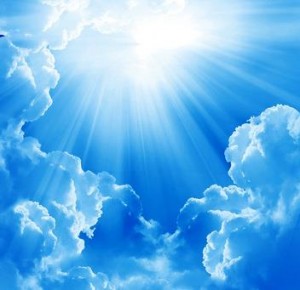 Here is what I believe about work: Our work is what appears in the world when we allow Divine Love and Creativity to flow through us. We are all channels of love and creativity, if we open ourselves up and allow it – and it doesn't matter whether or not that is a conscious process.
The plumber who comes in and fixes my sink is a huge gift to me, and I see the pleasure he takes in his work and in my response to it. The lady behind the desk at the electric company, where I go in to fill out a change of address form and ask for clarification of my bill, gives me her very best during the ten minutes we spend together. She makes my life easier, and she derives satisfaction from sharing her expertise with me. The attorney who helps a business owner incorporate, the doctor who interprets her patient's test results and gives advice on preventive care, and the mom and dad who cuddle a newborn and guide and nurture their children, are all channeling the energy. They are all living and giving, participating in the flow of divine love and creativity.
A friend of mine was born in 1913. We used to go together to her family ranch, near Ingram in the Hill Country of Texas. She loved to visit an old store built by hand by her older brother, a gifted stone mason. She's gone now, and her brother died fifty years ago, but the building still stands. Whenever I go back there, I can still feel the joy and pride he took in his work.
I am so grateful that I am able to create value in the world, and grateful to everyone who creates value for me. I am grateful for the support we all receive from the Universe when we live in the flow of work. I love receiving money directly for work I've done, and I love all the other forms in which support comes to me. Abundance of every kind opens up to us when we participate in the flow of love and creativity.
I am grateful for the chance to use my gifts in the world. When I am in my role as wife, mother, grandmother or friend, I am grateful. When I am coaching, supporting clients finding their way through challenging situations, I am grateful. When I am writing, immersed in the energy of allowing information to come through me, I am grateful. When I am standing in front of a room speaking, experiencing that electric connection with everyone else there sharing those moments, I am grateful beyond measure.