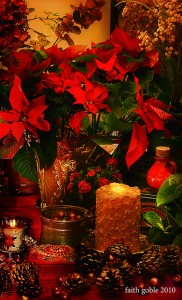 Ripe red pomegranates piled high in the produce section of my neighborhood grocery -I've been buying one every day. Junot Diaz – I'm laughing and crying my way through The Brief Wondrous Life of Oscar Wao, which I somehow missed when it was first published. Last night in bed, I kept reading sections of it aloud to Dempsey, who is more moved by music than by words; finally he patted me and said "Enjoy it! Good night."
Today is Thanksgiving here in the States, so before I return to writing about other things, I'm having one more day of intense gratitude for all the big and little blessings.
Thank you, to whoever is in charge, that I got to sit in small smoky venues and watch Dinah Washington and Bobby Darin, Ray Charles, and Johnny Cash and June Carter. I'm so glad I was there for the Beach Boys reunion tour, and sitting in the fourth row when Garth Brooks was holding the audience in the Erwin Center in the palm of his hand. Grateful I saw Nureyev dance, and grateful for all the symphonies and operas, and all the disc jockeys who played the songs while I sang along. Grateful for the astounding opportunity to stand in The Getty, staring for hours at a small, perfect Rembrandt portrait, to live free to visit many of the finest art museums in the world.
I'm filled with gratitude for my husband, the center of my world. To my constant wonderment, he has made me the center of his. Thanks for my children and their children, including our little Aiden, who will be arriving in a few weeks. Thanks for all my family; today I logged into Facebook, and my sister, Cassandra, had commented on a post written by our niece. She's been in the hospital for a couple of months, near death several times, but now she's able to be on her computer, to talk on the phone, and to walk a little way down the corridor outside her room. I'm grateful for health and vitality, and the opportunity to walk free in the natural world, and through great cities. Thank you that I was born in freedom, and given access to education and travel.
I'm so grateful for my beloved friends, who've laughed and cried and played with me over the years. Thanks for the years with Emmy and Norma, gone before I was ready. They both believed in a world beyond this, and whatever that is like, I know they're having a good time. They always did.
Thank you to the spirits of the animal friends who've shared my life, especially Lassie, whose beautiful coat absorbed my childhood tears, and Daisy, who sustained me through those hard first years of being a single parent. Thank you to all of them for their devotion to us, for their simple happiness that always reminded us to stay in the present moment.
Thank you for peace in the world, wherever it exists right now, in this moment. I am not blind to all the pain in the world, but I choose to notice and be grateful for every single moment of peace and joy. My positive attention shapes my thinking and perception, and I believe that what we notice, increases.
I'm grateful for all the challenging times I've been through, because of all I've learned, and because they've led me to my life today. I'm glad I can use all that experience in my work. I'm so grateful for the people my work, and by extension, social media, has brought into my life. My world is so much bigger and warmer and happier because of all of you.
Have a beautiful Thanksgiving Day!
(This photo was taken by Faith Goble, shared from Flickr.com under the Creative Commons license.)