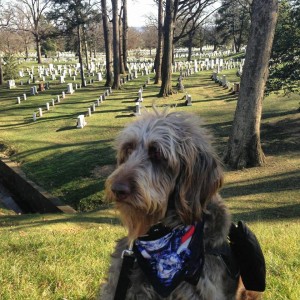 Happy Memorial Day! I hope you are enjoying time with friends and family, and some all-American holiday food. Today, as a tribute to our veterans and to the canine heroes who support them, I'm sharing a story about my friend, Lonnie Hodge, and his service dog, Gander. Special thanks to the folks at Freedom Service Dogs of America, whose wonderful work is described below.
**************
The ASPCA (American Society for the Prevention of Cruelty to Animals) reports that nationwide in the United States, 5 to 7 million companion animals are placed in shelters annually, and 3 to 4 million of them (60 percent of dogs) are euthanized.
Gander, a two and a half-year-old Labradoodle, was one of these dogs. He was in a shelter on his way to being euthanized when he was rescued by an inmate program in Colorado. After the inmates provided him an initial orientation and basic training, he was "paroled" to Denver-based Freedom Service Dogs, which has for twenty-five years gifted dogs to physically and emotionally disabled veterans and civilians.
Gander successfully completed the advanced training in Denver, learning the skills needed to become a service dog. Today, Gander spends his working day assisting a Vietnam era veteran; he turns lights off and on, clears rooms, retrieves objects, and acts as a gentle go-between with strangers. But Gander's role is much broader; he spends much of his time acting as a therapy dog at VA hospitals and conferences, where he is an ambassador of kindness and healing.
According to his friend and companion, veteran Lonnie Hodge, "Gander literally saved my life. Before the gift of Gander, I could not leave my house and I often considered suicide. I suffered from overwhelming anxiety and depression, and my arthritis had become so bad I could barely get out of bed. Now, I am an active advocate for veterans just like me around the country, up to 22 of whom commit suicide each day. My life is full of hope and opportunity and my doctor gave me a clean bill of health recently for the first time in a decade."
Gander has been nominated for Service Dog of the Year in the American Hero Dog Awards. As the only Veteran's Service Dog in the running, he has become an ambassador for service dogs and an advocate for suicide prevention among wounded warriors. But Gander's story, and the American Hero Dog Awards contest itself, also highlights the intrinsic and unique value of each and every dog, and underscores the tragedy of the ASPCA's grim statistics.
According to PBS' Nature's Extraordinary Dogs,  "Dogs are anything but common animals. They develop lifelong bonds with the people that take care of them…. Loveable and dependable, canines have been assisting their human pals for hundreds of years — from pulling dogsleds to helping the blind get through the day safely. Dogs' desire to please and willingness to follow commands make them good working partners as well as loving companions."
Veteran Lonnie Hodge calls this 'the way of the dog," and emphasizes that his and Gander's participation in The Hero Awards is also a way of calling attention to the fact that every dog is a hero to his or her companion human. Dogs like Katrina, who was placed in a shelter around the age of 2, then saved by Central Arizona Animal Rescue, picked up by law enforcement and trained in drug detection. She was recently retired at the age of 9, but continued to work with cataracts in her eyes until her retirement in Jan 2013.
Dogs like Lilly, an 8 year old pit bull, who was hit by a train after pulling an unconscious woman away from the tracks and who, though critically wounded, lay down next to her companion until help arrived. Now recovered after amputation of a foot and repair to a host of other injuries, Lilly joyfully spends her time appearing at fundraisers, showing people what wonderful dogs pit bulls can be.
Or dogs like CWD Rico, a Belgian Tervuren who worked on Baghdad Embassy Security Forces and TWISS contracts, received a medal for service from the US War Dog Association and is now a saving grace, comfort, and best friend to his human companion. Also retired, he is beginning work to raise awareness of Military Working Dogs/Contract Working Dogs (MWD / CWD).
"No dog is disposable," says grateful veteran Lonnie Hodge, who recognizes the fact that his own life and that of so many other individuals in both military and civilian life, are enhanced, extended, and sometimes even saved by their own hero dogs.
"Go to the Hero Dog website today and vote for the Hero Dog of the Year in order to highlight the wonder of dogs in our lives. Give your own personal hero dog a run and a hug. Best of all, go to your nearest shelter, and adopt a rescue dog of your own. Watch how both of your lives will change for the better."
Here's the link to vote for Gander, and through your vote, support Freedom Service Dogs of America: