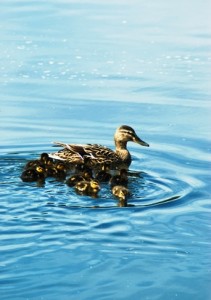 Very early this 4th of July morning, I was walking in one of my favorite parks, around a small lake. Crossing a footbridge, I looked down and saw a mother duck leading her babies through open water into a stand of reeds. It was an affirmation of life, during a week of sadness (as some of you know, my husband's mother died a few days ago).
On this holiday, which celebrates the birth of our nation, it occurs to me that much of the patriotism we feel is really our deep attachment to the natural world in which we grew up, and where we live. Whether or not we are aware of it, we have a profound connection to Mother Earth. I believe our hearts beat to her rhythms, as they echo in our particular place on the planet.
America is a set of ideals, and a cultural character of hope and individualism. But she is so much more than philosophy. She is mountains and meadows, marshes and rivers, trees and miles of beaches. She is beautiful beyond the ability of our poets to describe her, or our artists to paint her. Her beauty can truly be experienced only in still moments, as we stand in her earth, as we open our eyes to see her, listen to her sounds, and smell the fragrances carried on her winds.
Happy 4th of July to you!