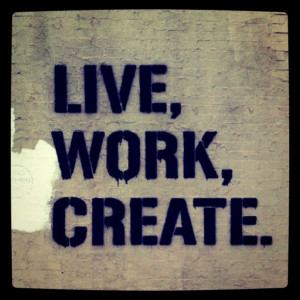 Live! Work! Create!
The nature of manifestation is that we humans conceive an idea, then work to bring it into physical reality. Today, Labor Day, is the perfect time to notice this process, which expresses our physical, emotional, intellectual and spiritual being.
Labor Day was founded to honor the contributions of America's workers. Its origins go deep into the Labor Movement, and reflect the sacrifices many workers made to bring about fair wages and safe working conditions. That process is ongoing.
In 2014, however, the world of work has evolved. More people than ever before are starting their own small businesses, and many of those exist online rather than in the "brick and mortar" world. As a culture, we have increased respect for the contributions of artists and craftsmen and women, as well as parents and teachers. We are also closer, I believe, to fulfilling Dr. King's vision:
So often we overlook the worth and significance of those who are not in professional jobs, or those who are not in the so-called big jobs. But let me say to you tonight, that whenever you are engaged in work that serves humanity, and is for the building of humanity, it has dignity, and it has worth. One day our society must come to see this. One day our society will come to respect the sanitation worker if it is to survive. For the person who picks up our garbage, in the final analysis, is as significant as the physician. All labor has worth.
All ethical work creates value. If we are engaged in worthwhile endeavor, we are all serving each other, and humanity, through our work. So today, I acknowledge you for all you do, and for all the good you are creating in the world.
We don't always give ourselves credit for the good we're creating. I'm writing, learning some new marketing techniques for a sales page, offering a class, and putting together a resource list for someone I love. I'd enjoy hearing from you: What are you creating this Labor Day?
Please leave me a comment, and let's talk about it!